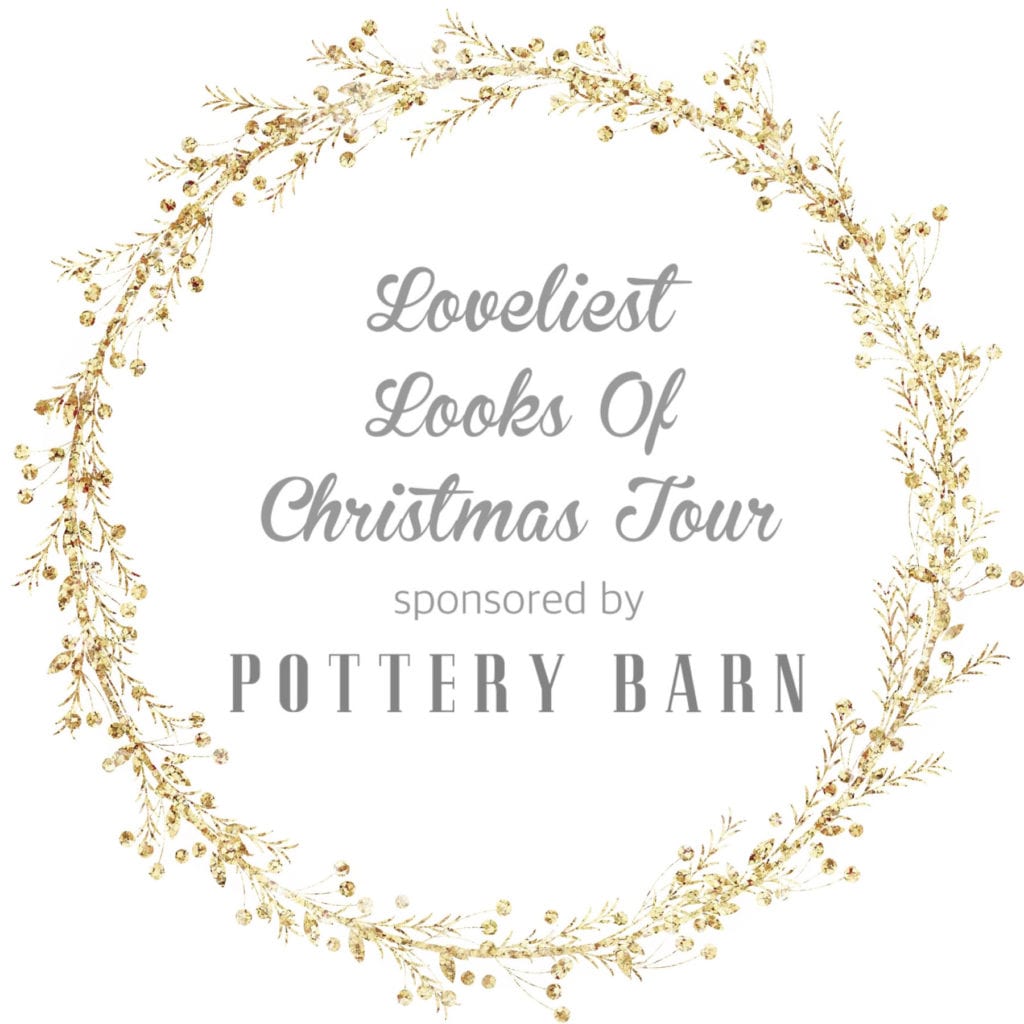 Welcome to our Loveliest Looks Of Christmas Tour, sponsored by Pottery Barn and hosted by Summer Adams & A Blissful Nest! We're so glad you're here to join this talented group of bloggers as we share our winter fashion and Christmas decor with you.
Loveliest Looks of Christmas Tour
I am so excited to kick off this holiday season with a little Christmas decor in my library. I haven't really shown y'all this room before, but a detailed post will come in January once the window treatment is completed. For the decor, I wanted a little glimmer on the table since there isn't a fireplace in that room… I wish though. If only I could have a fireplace in every room, so cozy. This brass hurricane is so lovely and gives off just the right amount of flicker once I dim the lights. I definitely use battery operated candles because of my young children! What really makes this hurricane pop is setting it inside a wreath laying on the table. Brilliant right? I wish I could say it was my idea, but a genius friend helped me with the set up. Once you add a little ribbon, ornaments and tree spikes to the wreath it really pops and comes alive. The only thing added to the hurricane were some mini tree ornaments.
The wreath that I hung on the window comes with gold and silver ornaments already attached, how awesome is that? It still needed a little something extra so some ribbon was woven into the wreath, and then of course some bows at the top and bottom made by a mix of ribbons. Finally, this cozy library becomes holiday ready after the faux fur throw is added to the couch. I sit on this couch and read books to my girls, it's just the coziest little space. Oh and I keep all of my heating pads plugged in behind the couch 😉
The Polar Express BIG Book | Cozy Henley Sleep Shirt | Cozy Joggers | Wreath | Arlington Multi Pillar Hurricane | Faux Fur Ruched Throw | Flameless Candle
Christmas Pajamas

Christmas Decor

Similar Room Furnishings

Special thanks to our friends at Pottery Barn for providing us with the items we've featured today!
Now, please hop on over to each of the other bloggers below to see what they are sharing!

Summer Adams | A Blissful Nest | Kristy Wicks | Fashionable Hostess

Palm Beach Lately | The Lush List | Bonjour Bliss Blog | A Touch Of Pink | Jess Cathell